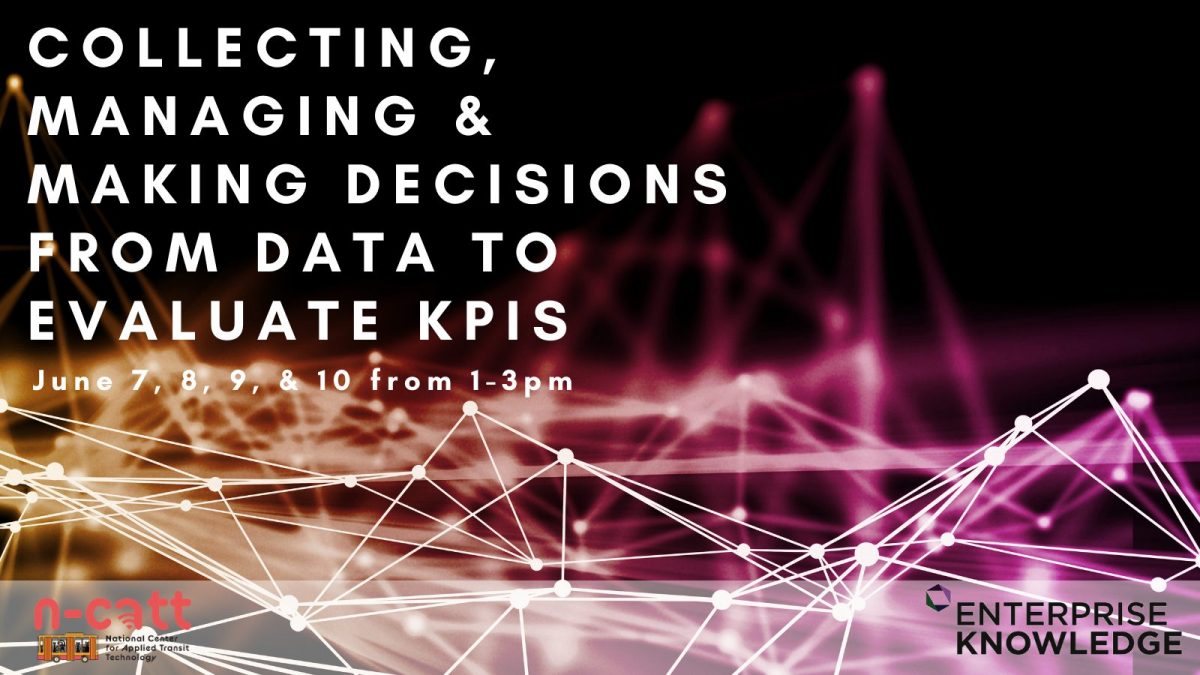 Workshop: Collecting, Managing, and Making Decisions from Data to Evaluate KPIs
Host: N-CATT
Date: 7th - 10th Jun 2021
Time: 1:00 pm
Space is limited. Register Today!
Enterprise Knowledge (EK), the largest dedicated knowledge and information management consultancy in the world, is partnering with the National Center for Applied Transit Technology (N-CATT) to develop Transit Agency Managers' data management practices through the facilitation of a Data Management Workshop for up to 20 participants. This workshop is an update of an initial EK-facilitated workshop held for N-CATT members in March 2021, and seeks to address common data management challenges and improve members' data management capabilities through activities and conversations centered around best practices and techniques for data management, such as regarding KPIs.
The workshop is directed toward Transit Agency Managers who create and/or consume data and did not participate in EK's first Data Management Workshop in March 2021. This workshop will directly address existing and improved data management practices through customized, hands-on activities, primers, and facilitation techniques to meet participants' specific needs.
EK will conduct this workshop in the form of four shorter seminars. Participants may sign up to attend all, some, or one of the sessions based on availability and interest. Although participants do not need to attend all seminars, those who attend and participate in all four seminars will receive a certificate, "Introduction to Data Management Certificate of Completion," that represents the skills and knowledge they will have acquired. The workshop seminars are scheduled as follows:
The Value of Data for Transit Agencies: Monday, June 7 from 1:00-3:00pm ET (including a break).
This seminar will address the common challenges around designing and launching data management  initiatives and, through design thinking principles, will help participants identify why data is important for N-CATT transit agencies, such as in better understanding, identifying, and evaluating KPIs. EK will lead participants through various primers and activities to define the personas who use data within the transit industry, discuss what KPIs, use cases, or needs they have for data, and create value statements to shape their own data management improvement projects. Participants will leave with a greater understanding of the key players who interact with data at their agencies and practical ideas for defining, collecting, and leveraging valuable data and inputs.
Working with Data: Tuesday, June 8 from 1:00-3:00pm ET (including a break).
This seminar will go through the process of working with data, including data collection, data integration, data analysis, and data visualization. EK will conduct a hands-on activity exploring the "grammar" that makes working with data more intuitive, and the principles of data analysis and visualization with a specific focus on a transit KPI-related dataset. Participants will leave with new or improved skills for manipulating data and answering complex questions with data.
Data Governance: Wednesday, June 9 from 1:00-3:00pm ET (including a break).
Participants will learn about key data governance concepts, best practices, and common data roles and responsibilities. In addition, EK will lead participants through primers and activities around advanced metadata management that improves data quality and accessibility, how to inventory key data sources, such as KPI datasets, and how to recognize key data skills needed to collaborate and manage data. Participants will leave with sample governance best practices which they can immediately begin to implement for their agencies, allowing them to better manage KPI datasets, among others.
Tools and Advanced Applications: Thursday, June 10 from 1:00-3:00pm ET (including a break).
This seminar will address common data tools in the market as well as look ahead to more advanced applications of data, including knowledge graphs, machine learning, and more. EK will conduct an activity on identifying data tool requirements and will support participants in mapping their needs to tool features. Participants will leave with a practical methodology for identifying and selecting new tools for their organization that will allow them to work more efficiently with data such as KPIs, as well as an understanding of some of the more advanced use cases for data such as automation.
Participants must complete a Data Maturity Survey in advance of the workshop to help provide EK with information about your existing data practices as they relate to your daily work. The survey should take no longer than 15 minutes to complete and will have a significant impact on the design of the workshop. At the end of the survey, you will be prompted to leave your email to sign up for the seminar(s) you are interested in attending. The survey is confidential and none of your individual survey responses will be reported to N-CATT.
We appreciate the broad interest that exists around this topic. However, this workshop is formatted for transit agency practitioners to allow them to freely exchange ideas and discuss best practices. This session will not be open to private sector participants.
Space is limited to 20 participants per seminar, so register today if you are interested!